Alentours : Hourtin
Campsite near Hourtin in the Médoc
Located 13km south of Hourtin in the Médoc, the 4-star campsite Le Paradis à Carcans offers camping pitches and mobile homes to suit all budgets. The quality of its services, the numerous and varied activities and the swimming pool make it a prestige campsite.
Between forest, lake and beach, this family campsite near Hourtin is ideally situated to visit the wealth of the Médoc region. Vineyards, marshes, long sandy beaches and the Landes forest will be within your reach during your holidays in the Gironde by camping at Hourtin.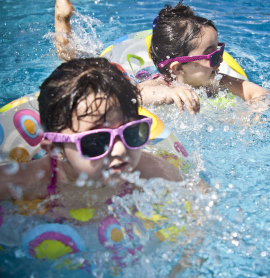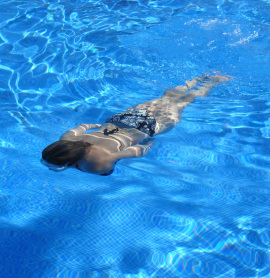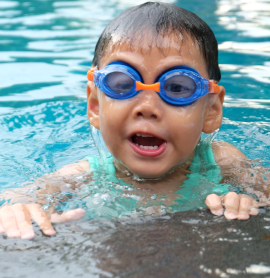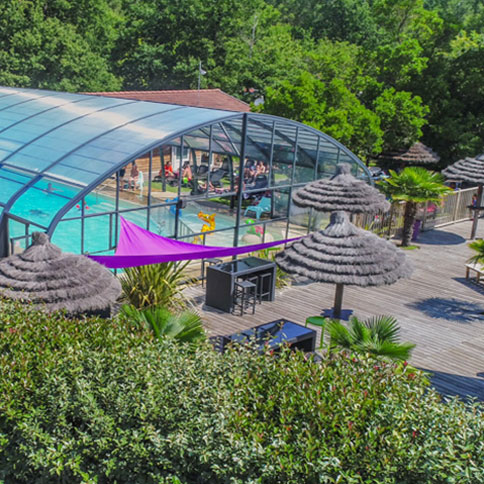 Campsite with swimming pool near Hourtin
Make the most of your next stay in Hourtin in the Médoc in a campsite with a swimming pool. The water of the covered swimming pool is heated to 29°C, usable in case of bad weather. The swimming pool is surrounded by deckchairs where you can enjoy a pleasant sunbath or sip a cocktail in the shade of a parasol.
What better way to relax during your holidays in the Médoc in the Gironde ? The youngest children will be able to have fun in the heated paddling pool in complete safety in the heated paddling pool. Aquagym classes and other water activities are organised 3 times a week in July and August.
And every summer the Beach Party at the pool. From April to mid-September, the aquatic area is open from 10am to 7.30pm, allowing you to swim in the morning or bask in the sun at the end of the day. Our campsite with swimming pool near Hourtin also has sports fields and playgrounds for young and old. Various activities and parties are regularly organised so that every visitor can spend a dream holiday near Hourtin in the Médoc.
Mobile homes and bungalows for rent in Hourtin
Looking for a Hourtin mobile home rental? The 4-star Le Paradis campsite has a rental park of 4 types of different mobile homes that can accommodate 4 to 6 people. They are equipped with at least one double bed and 2 single beds. They all have a kitchen equipped with a fridge, hotplates, a microwave, and an electric coffee maker. The Prestige, Premium and Comfort models have a bathroom and separate toilet.
The mobile home Prestige is 2 to 3 bedrooms, a covered and fitted terrace. It also has a television, a freezer and wifi. With a surface area of 32m ² it is also available in PMR version.
The mobile home Premium is 31m² and has 2 or 3 bedrooms with single or double beds and a covered or semi-covered terrace.
The mobil-home Confort of 28m² has a bedroom for 2 children and a bedroom for the parents and a covered or semi-covered terrace with garden furniture.
The mobile-home Nature is also 28m². Ideal for couples or small families of up to 4 people, there is a parents' bedroom, a children's bedroom and a terrace on the ground floor.
For any Hourtin bungalow rental, you will enjoy the many activities of the campsite. Many offers and promotions are regularly proposed on each mobile home near Hourtin.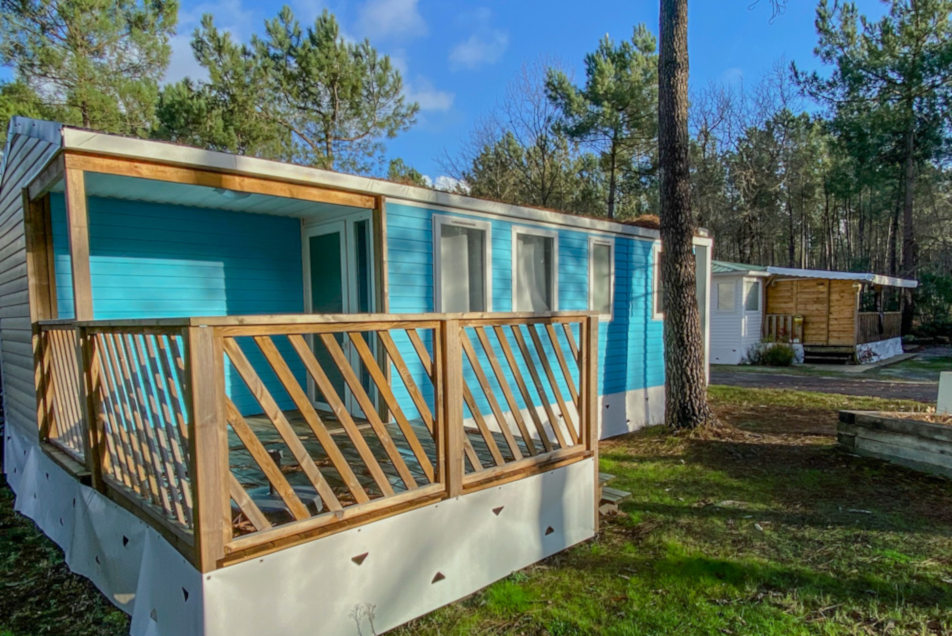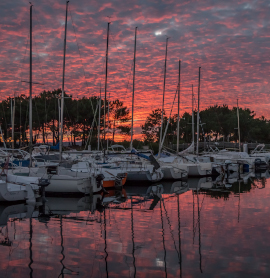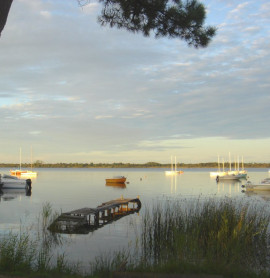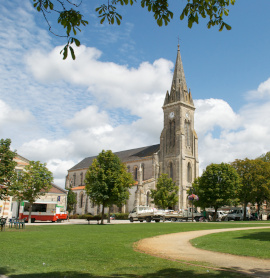 What to do in Hourtin?
A natural decor and extremely preserved awaits you there, for an unforgettable tourist excursion. If you are a fan of camping and authentic adventures, Hourtin has a precious potential to be discovered as soon as possible. Don't hesitate to visit this small town of less than five thousand inhabitants, where human warmth and natural resources extend their arms to you.
The freshness of the forest and the presence of a beautiful lake make it a special place in the Médoc.
Several activities around the lake of Hourtin are worth trying, such as boat or canoe trips, trails and picnic areas. If you are interested in watersports you can try your hand at stand-up paddle or wake-boarding at Hourtin beach.
The essential place in Hourtin is its natural reserve of the dunes and marshes of Hourtin, a set of varied landscapes such as beaches, marshes, forest and dunes which extend from the coast to the lake of Hourtin.
You will be able to explore it on foot around the lagune de Contaut for example or by bike by following the 14km loop of the Genêts. Free guided tours are also available. As for children, they will be particularly interested in two water parks, l'île aux Enfants and Splash Park.
While camping near Hourtin you won't see the time go by !
Cycling between Hourtin-Plage and Lacanau-Océan
More and more forest and bike paths on the Velodym
The nature reserves encountered along the itinerary are there to demonstrate that these great spaces are populated, rich and much more diverse than one might think at first glance…